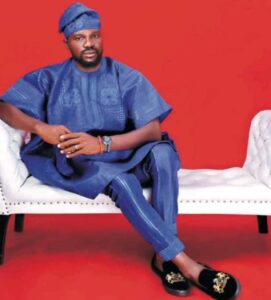 As I added another year to my age today, I give thanks and glory to God, my creator who has been a perfect moderator. 99% of a man's ambition is achieved by only waking up to see a new day. I hereby dedicate my rewards of being a thankful servant of God to all Nigerians in pain to receive a heavenly breakthrough in all ramifications. Also, the rewards of remembering others in distress with prayers should be configured to a single prayer point ( GOD SHOULD MAKE ME THE NEXT ALAAFIN).
The Oranyan or Oranmiyan descendants both at home and abroad are calmly and keenly following the processes which will culminate in seeing the assessment and conclusion regarding the stool of Alaafin.
Prince Siyanbola Ladigbolu
Well, they don't have to be blamed for doing so because Alaafin's stool is not limited to Oyo but across the whole Yoruba-speaking territories. Yorubas as the most influential, educated, and culturally rich tribe can't just select any person to the stool of such pedigree without taking so much into consideration.
The traditional requirements as originated in times past demanded the consult of the oracle
History has it that the same Oracle was consulted in 1555 which declared Alaafin Orompotoniyun as the new Alaafin. But times have since changed. Civilization or Modernity has corrupted our traditional values. Oyo is the cultural custodian of the Yoruba race, and I expect the same oracle to play a decisive role in the selection of the next Alaafin because I don't think any unpolluted ORACLE will jump a blue-blooded prince and select any 4th of 5th generation to the stool of ALAAFIN, and any oracle with the option of 4th or 5th generation may have to give a reason for not choosing a blue-blooded and historically loaded prince like me publicly. Let's go on a historical journey.
There was nothing like oracle intervention until during the reign of ALAAFIN OROMPOTONIYUN broke the record of hereditary ( father to son), so consultation of oracle ideology came to the supreme Oyo dynasty during his era. Since we have added oracle consultation measures to our processes, Yorubas worldwide are very familiar with oracle's idiosyncrasy, they can easily identify decisions from real ORACLE.
Before the arrival of Christianity and Islam, every part of Yoruba lands have the deities they are known with, though they might have another deity in addition to the one they know. For instance, Oyo is known as Sango (god of thunder)
Ekiti is known for an oracle (IFA) that's why it's difficult to see anyone from Ekiti without FA as the beginning of their names e.g IFAYEMI, IFANIIKAYODE, IFADEYI, IFAWUMI, IFASORANTI, IFASORO IFALANA and so on.
Ondo town is known as OGUN. (god of iron) the highest number of blacksmith occupations can only be sighted in Ondo up till now. that's why their names are full of guns. eg. Oguntunde, Ogunyemi, Ogunsina, Ogundare, Ogunsola, Ogunyemi, and so on.
Abeokuta is one of the towns in Yoruba lands where masquerade celebration is very intact but accumulated some other deities along with Egungun. So all the names of deities you have never heard can easily be heard in Abeokuta if you are very vibrant in the Egba dialect, such as Osoyimika, Osowumi, Osolanke, and so on. Even with the name of some areas in Abeokuta, you will understand they have had countless deities in their custody. Like SAJE, IJEMO, LANTOORO, AGO-IKA, AGO-OKO, PANSEKE, TOTORO, and ITA-OSIN. So all these localities are attached one way or the other to tradition and spirituality.
Osun worshippers have had the highest number in Osun states up till now and some parts of Ogun state. Abeokuta specifically. and their names can never be completed without the sound of OSUN. e.g Osunsina, Osunmuyiwa, Osungbemi, Osunseyi, Osundere, Osuntinubu, and so on. So Yorubas worldwide are seriously on monitoring mode to see the result of oracle INTERVENTION.
Alaafinate
Ajisebi Oyo Radio TV News
Ajisebioyoradio.com
My greatest ambition
Siyanbola Ladigbolu