Engineer Oluwaaseyi Makinde : Strong as Wind, Soft as Shadow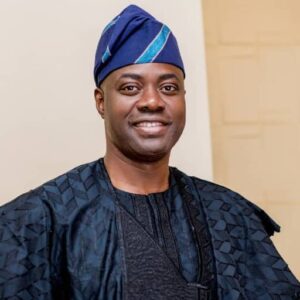 By Bode Durojaiye.
Meeting him is to meet a father, mentor, coach and godfather. Knowing him is to know an enigmatic, conscientious and compassionate leader.
To interact with him is to discover a humble, reticent and diligent man whose top notch work ethic is unbelievable and astounding.
It is to know a 54-year-old astute Executive Governor of Oyo State, Engineer Oluwaseyi Makinde whose attention to detail is unusual, whose decisions are always meticulous and informed, whose knack for entrepreneurship and business is remarkably inspiring.
To know him is to know a man who embodies valuable lessons on how people can judiciously utilize their resources in ways that deliver impact that's tremendously useful and beneficial to communities.
To work with him is to serve under a leader who listens and believes profoundly in the innate abilities of members of his team to deliver on whatever task they are saddled with. He is a leader genuinely given to consensus building, one who sincerely wants the good of everyone.
Gov. Makinde has proven to be that kind of an uncommon leader who runs a flat table, no high table.
He is immensely respectful, warm, considerate, soft as the shadow but strong as the wind.
A man of commendable standards, not many leaders have the credentials of placing public good above even the most reasonable of arguments like Governor Oluwaseyi Makinde.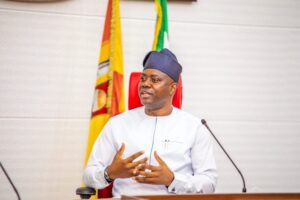 His unapologetic passion and dedication for uplifting the down-trodden has made a man his age an enduring indispensable force in matters of nation building.
Before Engineer Oluwaseyi Makinde ever thought of running the Pacesetter State, he is a humanist par excellence, as he had and is till committing his resources towards uplifting lives of the teeming downtrodden, across the 33 local governments' areas of the State, in terms of scholarship, business support, orphanage and old age assisted schemes.
His devotion to helping the underprivileged burns hot with the intensity of a furnace.
Oluwaseyi Makinde is indeed a Godly man as he strives to have ​purity of heart. He strives to avoid lust and other temptations and works hard to overcome them.
Get me right. He Is not a perfect man. So, there are going to be times a Godly man makes a mistake. Yet, he works to make sure those mistakes are minimized.
He is a leader who keeps his mind sharp, as he desires to be wise so he can make good choices.
Gov. Makinde puts an emphasis on his own integrity. He strives to be honest and just. He works to develop a strong ethical foundation. He has an understanding of Godly behaviour, and he wants to live to please God with a good character and a clean conscience.
Here is a dynamic Leader who uses his words wisely. We all speak out of turn sometimes, and often we are quicker to speak than to think through what we should say.. Our dutiful Governor puts an emphasis on speaking well to others. This doesn't mean that he skirts the truth or avoids confrontation. He actually works on telling the truth in a loving manner and in a way that people respect him for his honesty.
What an hard working Chief Executive Officer of the State !
In today's world, we are often discouraged from hard work. There seems to be an underlying importance placed on finding the easy way through something than doing it well. Yet Governor Makinde knows that God wants him to work hard and do his best to serve the people of the State.
He wants the Governor to be an example of what good hard work can bring. If we start developing this discipline early in high school, it will translate well when we get into college or the workforce. This lifestyle is paying back to our amiable Governor.
Gov. Makinde and his family devote themselves to God. God is always a priority to a Godly man. The man looks to God to guide him and direct his movements. He relies on God to provide him with an understanding of situations. He devotes his time to doing Godly work.
Godly men go to church, or mosque. They spend time in prayer. TThey also spend time developing a relationship with God. These are all easy things the Governor and his family have been doing before becoming the number one family in the State, in.order to grow their relationship with God.
Gov. Makinde never gives up.
We all feel defeated at times when we just want to give up.
But Engineer Makinde knows the difference between God's plan and his own. He knows never to give up when it's God's plan and to persevere through a situation, and he also knows when to change direction when he allows his own mind to get in the way of God's plan. Otherwise, how did he become the number one citizen of the State?
Developing the tenacity to keep going is not easy in high school, but our youths should start small and try.
Engineer Makinde gives without complaint. He gives his time or his money without complaining because it's God's glory he seeks.
A lesson there for everyone of us. We can start developing this selflessness by getting involved now. If you don't have money to give, try your time.
One cannot help but admire the purity of intentions, with which Gov. Makinde delivers on his mandate, as Makinde isn't likely to assault anyone's views with his face as the man behind the largesse, yet his works are splattered across the State. Cynics can even testify to these unprecedented achievements.
My close observation of Gov. Makinde's family values and his heartfelt respect for his wife who is a bright and positive example to women and girls as a wife, mother, First Lady, and an excellent Child rights advocate is a beautiful sight.
His devotion to his children and the discipline he has instilled in them is telling of Gov. Makinde as a balanced father at home as much as the public see and experience him across the State and around the world.
A devout Christian, yet accommodating and magnanimous to both Christians and Muslims alike.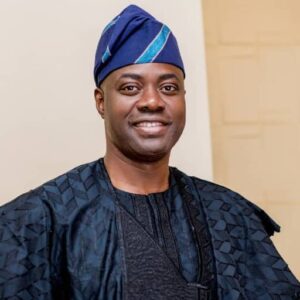 Gov. Makinde's life and contributions ring aloud his desires to see a Nigeria where poverty is absent, where all classes of citizens are treated equally, where access to quality healthcare is a standard norm and no one is left behind; a Nigeria where people that have wealth and power use their privilege to improve the lives and the livelihoods of their fellow citizens at the bottom of the pyramid.
These, Makinde has continued to prove, are possible and attainable and he remains undaunted in his onerous task of bringing smiles to the people of the State
Bode Durojaiye is the Director of Media and Publicity to the Alaafin of Oyo.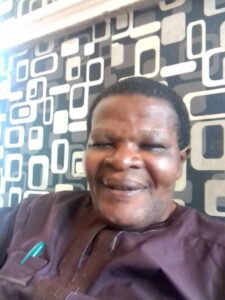 ☎️+234 805041 9987
Email; [email protected]